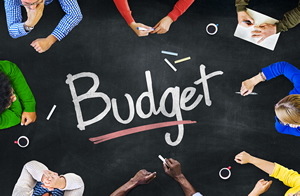 Our Budgeting solution will help you effectively manage your budget development, and analyze the information to make the best decisions.  Streamlined for efficiency, our budgeting tools simplify the process by allowing you to perform multiple forecasting to scenarios for analysis and the flexibility to evaluate and understand the effect of various factors.  Designed to solve the cumbersome process of budget creation, tracking, analyzing, and reporting.  For more sophisticated analysis, users can export budget worksheets to Microsoft® Excel, and then upload new details into the budget module. 
Enables the user to design and produce the entire budget presentation using the powerful spreadsheet built directly into the budget module or to use a standard spreadsheet program and import current financial data.
Provides for import and export of financial information with Microsoft Excel.
Supports a full range of reporting formats including reports sorted by any combination of function, object, location or program.
Allows budgets to be printed into the New York State component budget reporting format
Provides for unlimited custom budget worksheets with extensive detail notes for each account code.
Performs intelligent budget calculations by increasing or decreasing specific account codes by a user-defined percentage or amount.
Provides automatic updating of budget totals as budget amounts are entered or revised.
Imports real-time data from Accounting module including the original budget, revised budget, year-to-date expenditures and projected expenditures consisting of year-to-date expenditures plus current outstanding encumbrances.
Provides the ability to automatically move the adopted budget into the new fiscal year in Accounting.
Imports real-time salary projections from Negotiations including detail by budget code.
Allows for input of budget requirements at responsible cost centers.