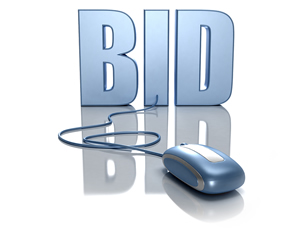 Bidding is a comprehensive software solution designed to automate the manual bidding process for school districts and municipalities by effectively creating and managing bids from initial setup to the award stage. All awarded bids can be conveniently converted into requisitions or purchase orders with full historical analysis.

Bidding provides a centralized database to easily input bids, maintain vendors, and log bid response activity which complies with legal, regulatory, and report requirements. Bid Administrators have the capability to restrict requestor access and control the types of items they can add to a bid.

Built with the most up-to-date Microsoft development tools written to Windows standards, Bidding has the same look and feel that Windows users are already familiar with.
Utilize built-in time saving scenario calculations
Reduce bidding workloads
Enter data effortlessly with instantaneous records management
Achieve greater control of budget development
Reduce costs
Eliminate redundant input efforts between buildings and departments
Analyze vendors' bids to determine the most cost effective price
Import directly into Microsoft Office
Seamless integration with Accounting
Fully customizable maintenance tables
Unlimited bid categories, sub-categories and items
Audit trails of all actions made within Bid to ensure accountability
Electronic submission of vendor quotes
Customizable layout with resizable windows
Spell check capabilities for free-form text entry
Smart alerts to prevent users from missing important entries necessary to complete a bid
Comprehensive bidding analysis with graphical presentation
Build bids easily and efficiently
Generate automatic or custom bid number
Create an unlimited number of customizable bids with a limitless number of items
Add new bid categories and items instantly while creating new bids
Import one or multiple items to bid requisitions with the click of a button
Illustrate bid details on one easy-to-view window for analysis and reference
Assign permissions for an individual requestor to bid on behalf of other staff
Automatically evaluate and analyze vendor responses to determine the best vendor or item price
Simulate various vendor discounts for comparison
Award a bid to vendors other than the lowest bidder
Document override reasons for rejected lowest vendor bid
Award bid by vendor or item
Graphically compare vendor quotes through printable color chart analysis
Electronically convert awarded bids into requisitions or purchase orders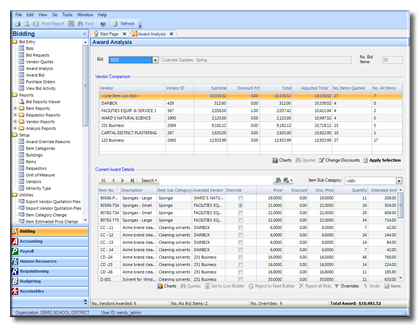 Detailed Tracking & History
Includes integrated industry-standard report-writer, Crystal Report
Detail documentation of the entire bid process through extensive reporting capabilities
View multiple lines or focus on one specific line item through flexible reporting
Retain historical bidding information from prior years
Track potential expenses by account
Review vendor participation and response activity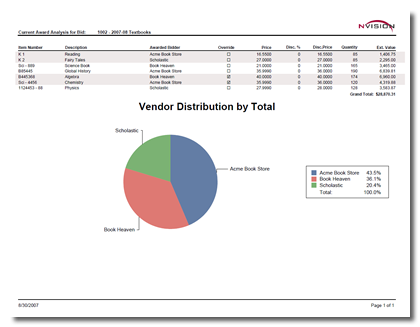 Flexible Reporting
Item Bid History Report Material Safety Data Sheet MSDS
Bid Items Report
Bid Reporting by Requestor
Vendor Quote Report
Lowest Quote Vendor Report
Award Report
Award Overrides Report
Account Distribution Report
And much more...